Archive for November 2013
By : arie cell
Hey ya BeautiFans!
Today we start a new series of posts, where we will talk briefly about the most intense things we lived along the week and the best stuff we have found on the Internet, hope you like it!
Pol, one of our programmers, is a huge Zelda fan! this past week he just beated The Legend of Zelda: A Link Between Worlds for 3DS, and wanted to share the magic with you thanks to this musical moment! and the HOLY mini chest!
By : arie cell
Hi Beautifans!
It's been a couple of weeks since we don't come up with some news! I guess that regularity is not something usual on indie dev teams. But don't worry, we haven't been precisely idle!
We are working on
Megamagic,

our new project, and at the same time we keep polishing and getting ready all Nihilumbra versions. Like the PC one that, a few days ago, got an update to version 1.2, containing the following improvements:
New languages (KOR, JAP, CN, PL).

Enhanced tutorial.

Bug Fixes.

Check your achievements in-game.
Also, last week, Kevin and Pol went to the Madrid Games Week, a huge event where the biggest companies presented their new consoles and games. But there was place for some indies as well! Our colleagues were showcasing Nihilumbra (amongst some other incredible games such as Kromaia, Gods Will be Watching, Candle or Extintion) to a lot of visitors who were curious and eager to play!
But today we want to share with you this article we published on Gamasutra. After reading Nihilumbra reviews and watching gameplays, we discovered that something was not right. We had a great reception with the iOS version, and a lot of people seemed to be enjoying the enhanced PC version as well, but we've started to see a considerable amount of critics that didn't like Nihilumbra at all. Why is this starting to happen now, one year after the game was released? What has changed? Is it the game, the audience or maybe the press?
Kevin wrote his thoughts about what could be the causes of all this. In this peculiar post-mortem Kevin explains some of the most relevant design choices he made, why the game is how it is and how this influenced on the community and press feedbacks that we've been receiving; remarking the differences from the iOS and the recent PC version. We hope the article can help some other developers who are in the same situation as we were, and also could be useful for anyone who plays the game and wants to understand some of its particularities (for example, why the first few hours of the game are quite easy or why the difficulty of the Void mode is too damn high).
We would love to read your opinions, so don't hesitate in commenting here or in the article itself!
Tag :
BeautiFun Games
,
Feedback
,
gamasutra
,
Gameplay
,
lessons
,
madrid games week
,
Nihilumbra
,
PC
,
players
,
post-mortem
,
press
,
update
,
By : arie cell
Hey BeautiFans!
last two weeks have been quite busy for us with a couple of events and the Steam launch, now we have a bit of time to tell you about what we have been up to this later exciting times!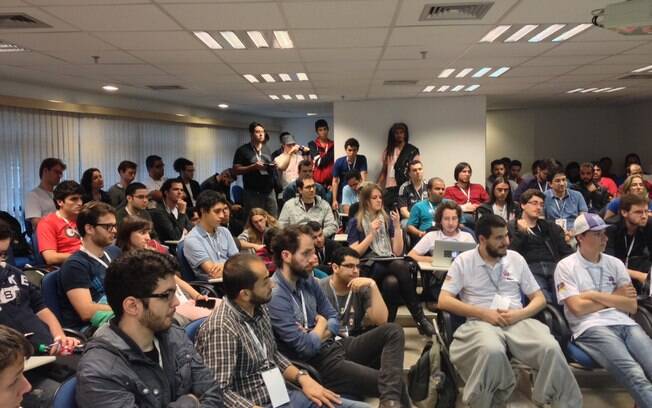 SBGames 2013 (Fuente: Arena IG)
The first stop of our trip is Brazil and its
SBGames 2013
, one of the most important events focused on game development in Latin America. It took place from 16 to 18 October in São Paulo, and there was our community and PR guy, Jesús Fabre, that met some of the most interesting brazilian devs and gathered some feedback on Nihilumbra. Glauber Kotaki, pixel artist on the indie hit
Rogue Legacy
, praised the art quite a bit, and Saulo Camarotti and Beto Souza, from
Behold Studios
(creators of the amazing Knights of Pen and Paper and the upcoming Chroma Squad) loved the game mechanics and atmosphere. It was a great experience for us to be witnessing this "indie rennaissance" that is going on in Brazil right now, with games like
Ninjin
,
Toren
,
Mr. Bree+
or
Qasir Al-Wasat
(the last two are struggling in Steam Greenlight,so if you like them, upvote!).
Some awesome devs discovering Nihilumbra:
Glauber Kotaki (left) and Saulo Camarotti and Beto Souza (right).
Our second stop is goes several thousands kilometers away from Brazil. No further than Kyiv (Ukraine), where
Casual Connect
was being celebrated.
Nihilumbra was showcased beside two great titles:
The Inner World and a Knight to Remember.
And there flew our colleagues Marcos Sueiro, one of our programmers, and Kevin Cerdà, our Creative Director and Nihilumbra's designer. Kevin did a speech about riding on sharks and living the indie adventure. He focused on how hard has been the labour of creating a and marketing Nihilumbra for iOS and the exhausting feat of getting out of Steam Greenlight.
Kevin and Marco's time at Casual Connect was fun as always but it was also really rewarding. They had the chance to meet with some great independent developers such as the guys from
Studio Fizbin
, who are the creators of The Inner World,
Fishing Cactus
with Algo-bot,
Staal Media
that brought a great flash game called A Knight to Remember, and a lot of other developers of awesome independent titles.
Both had the chance to have some serious conversations about videogame development while partying hard and wearing silly hats, as you can see in the pics. Bussiness is hard.
And finally, we cannot forget to mention how intense everything has been for us to launch our game on Steam. We are really thankful for all the attention we got from the press, from sites, youtubers and people supporting us on Twitter, Facebook, even in our new Nihilumbra page on
Google Plus
. We are learning a lot from everyone's feedback on Nihilumbra. That's why, in the future, we want to share our impressions and write up an article about all that we learned from the feedback on this conversion and the differences from mobile to PC/Linux/Mac audience, hope you like it!
Cheers!
BeautiFun Games.
Tag :
BeautiFun Games
,
Brasil
,
Casual Connect
,
Events
,
Feedback
,
gamers
,
Jesús Fabre
,
Kevin Cerdà
,
mobile
,
Nihilumbra
,
PC
,
SBGames 2013
,
Ukraine
,